14.05.2012
Graduation wspc 2010 - 2011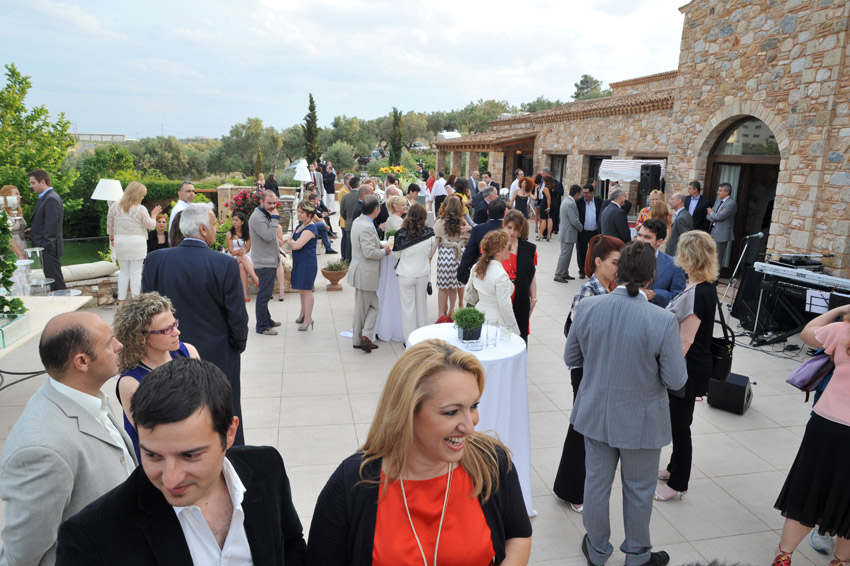 Corporate events
Wine & Spirit Professional Center(W.S.P.C.), the Greek branch of Wine and Spirit Education Trust (WSET London) - celebrated the Graduation and Scholarship awards for the classes of 2010 and 2011, in an exceptional event that took place at the winery of Pyrgos Petrezas, who was the great sponsor of the Graduation ceremony.
he graduation ceremony climaxed with the Honorary Presentation of the High Decree WSET Diploma to Mrs. Stavroula Kourakou-Dragona Hon AIWS. The biggest wine expert that ever came out of this country. With exceptional studies, world recognition and activity, decorated by many country, she was Head of the Wine Institute of the Ministry of Agriculture for 20 years. Mrs. Stavroula Kourakou-Dragona, together with Mrs. Roxanne Matsas are the two Greek women that have been appointed Honorary Alumni Hon AIWS Diploma by the Wine & Spirit Education Trust (WSET London) in a worldwide level.
Inside the packed Pyrgos Petreza hundreds of distinguished guests watched the graduation of the students from all the Study Levels of WSET London: Foundation, Intermediate, Advanced, Professional Certificate in Spirits. Amongst the guests were: the world president of WSET. Mr. Ian Harris AIWS, Mrs. Roxanne Matsas Hon AIWS, the president and vice-presidents of The Peloponnese Vineyards Wine Producers Union –Mr. Ioannis Tselepos and Georgios Skouras, representatives of the biggest wineries, wine and spirits import and distribution companies and, for the first time, of Director General of the Greek Tourist Corporations Union, mr. George Drakopoulos, as well as businessmen from the tourist sector. Graduates of the Greek organisations are professionals and executives from the wine markets but also simple consumers –lovers of wine.
Particularly touching was the presentation of WSET Diploma to 8 students who graduated from the worldwide Higher Interdisciplinary Decree for wines and distillations. The decrees were awarded by the President of the English mother organization WSET London himself, mr, Ian Harris AIWS. The students of the Greek department, W.S.P.C. who graduated are: Colleen Odore AIWS, Giorgos Balsamides AIWS, Stephanos Tsalavoutas AIWS, Giorgos Floudas AIWS, Ioannis Karakassis AIWS, Constantinos Dimopoulos AIWS, Irene Christophoraki AIWS and Lazaros Gatselos AIWS.