26.01.2018
A night with Stelios Boutaris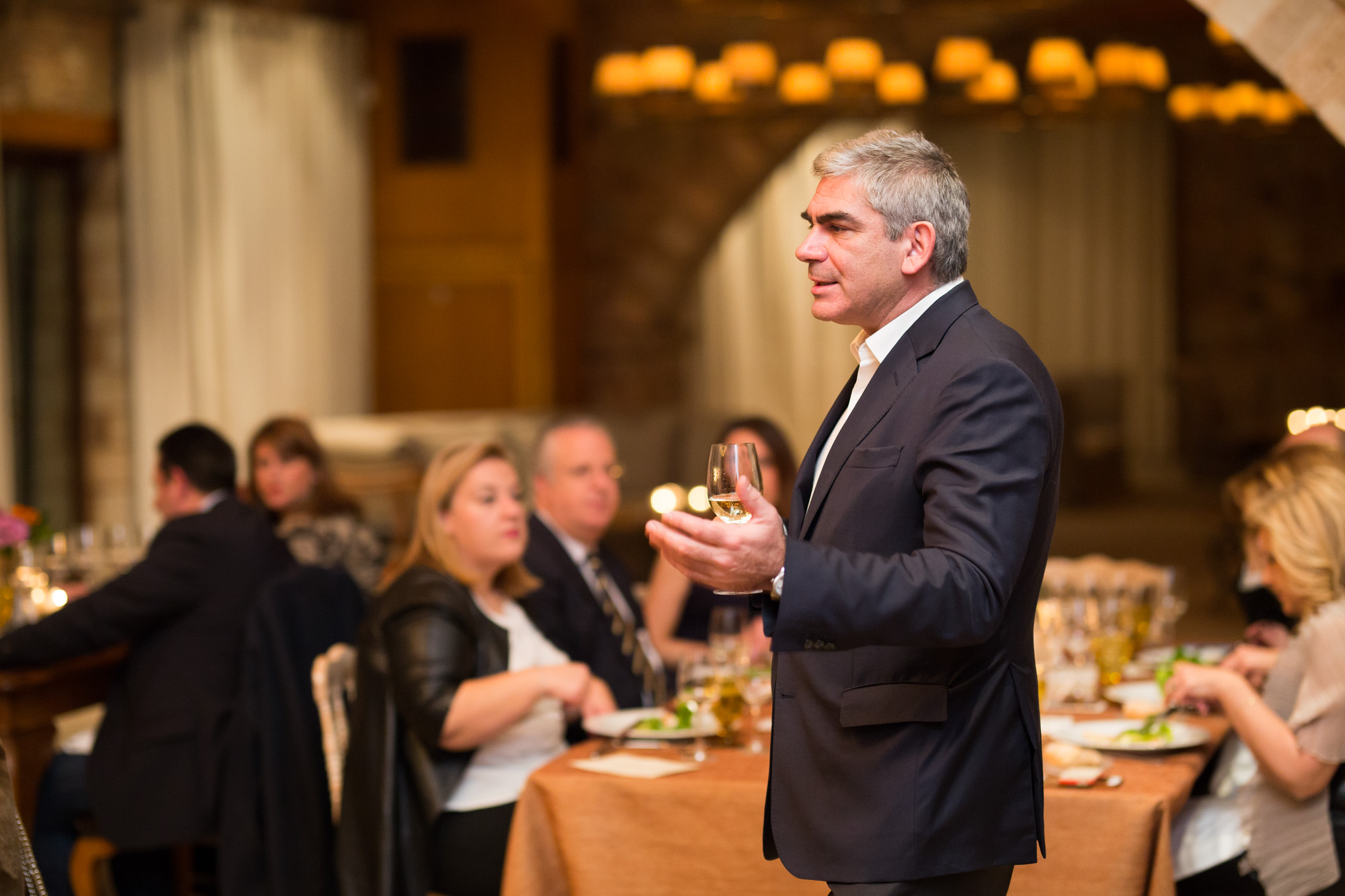 Dinners
Stelios Boutaris is a fourth-generation winemaker born and raised in the vines and aromas of the oak barrels of aging wine.
Today he leads the Kyr-Yannis team to the next level of the Estate's evolutionary course, utilizing dynamically the main pillars of the Kyr-Yiannis philosophy: innovation, respect for tradition and expert knowledge of wine, from the vineyard to the final consumer..
Kyr-Yiannis Estate, with a typical estate, vineyards and winemaking units in Giannakohori and Amynteo, is today's one of the top 10 wineries in Greece with sales in Europe, America, Asia and Australia.
On the 24th of January, 2018, Stelios Boutaris shared his favorite wines with us and talked about the Kyr-Yiannis Estate history, revealing the stories behind every label he presented that night.
Our Chef Miltiadis Kiikas and his team created unique dishes inspired by these tasteful Kyr-Yiannis wines and the stories behind them.

Το Μενού και τα κρασιά της βραδιάς!
Καλωσόρισμα: Σπανακόρυζο με λακέρδα & τζίντζερ
Πιτάκι μουσακά με παλαιωμένο τυρί Νάξου
Παντζάρι με καβουρμά & μουστάρδα
Κρασί: Παράγκα Sparkling

Α' πιάτο: Σαλάτα Mare με τζιντερ, φινόκιο & σούπα μπρόκολο
Κρασί: Ταρσανάς 2016

B' πιάτο: Κανελόνι με γλυκάδια & κοτόπουλο
Κρασί: Τέσσερις Λίμνες 2016

Γ' πιάτο: Μαύρος χοίρος ελαφρώς καπνισμένος, μανιτάρια, κόκκινο κρασί, δαμάσκηνο & πουρέ καρύδι
Κρασί: Δύο Ελιές 2015 & Ράμνιστα 2013

Δ' πιάτο: Μιλφέιγ με μήλο καραμελιζέ, παγωτό σοκολάτα γάλακτος, κρέμα κανέλας & σουσάμι
Κρασί: Χρυσογέρακας 2013
Τα λαχανικά (σπανάκι, παντζάρι, μπρόκολο, κρεμμυδάκι κα) καθώς και όλα τα μυρωδικά που χρησιμοποίησε ο Chef μας, προέρχονται από τον λαχανόκηπο του Πύργου Πετρέζα για τον οποίο είμαστε ιδιαίτερα υπερίφανοι.